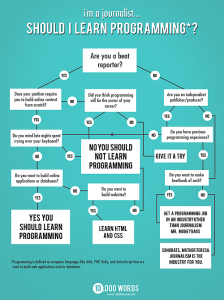 As a Web Journalist and a WJ Profe., this is actually one of the most common questions I've gotten over the years.
It's actually a heated debate… but quite honestly, more than likely the answer is "no."
In my professional opinion, it's better to know how your role engages with an engineer/programmer rather than knowing a programming language other than HTML/CSS.
But, if you have doubts, good friend and multimedia guru Mark Luckie / @10000Words created this handy flowchart to help guide you through this question.
Read his post: Should journalists learn programming skills?: A Flowchart